Introduction of Creative Writing with Daniel Prasetyo
Daniel Prasetyo, Corporate Sustainability & Communications Manager Reckitt, mengisi materi workshop tentang "Creative Writing" pada 10 Mei 2023 melalui Video Conference Zoom pada pukul 10.00 WIB. Reckitt merupakan perusahaan internasional yang berfokus pada produk kebersihan dan kesehatan. Workshop ini merupakan salah satu rangkaian dari "Skill Based Training Workshop" yang diadakan oleh Communication Department. Tujuan dari kegiatan ini adalah untuk membantu BINUSIAN dapat lebih handal dalam penulisan di dunia kreatif.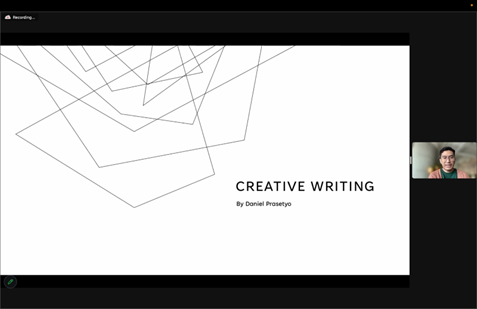 Pada sesi ini, Daniel menjelaskan bahwa creative writing merupakan sebuah penulisan untuk mengekspresikan sebuah emosi, ide, serta cerita dalam bentuk yang imajinatif dan unik. Creative writing ini sangat penting di masa kini terutama untuk sebuah brand menurut Daniel, karena hasil karya tersebut dapat membuat sebuah brand menjadi memorable, membangun hubungan emosional dengan customer, dan menciptakan pesan dari brand yang konsisten. Sebelum menulis, kita harus melakukan sebuah penelitian secara mendalam terhadap market dan customer sehingga dapat menyampaikan pesan yang diinginkan secara efektif. 
Mahasiswa BINUSIAN sangat antusias saat mengikuti workshop di sesi ini. Mereka ingin lebih mengetahui bagaimana cara membuat copywriting yang menarik, relatable dengan audience, dan mendapatkan attention dari audience. Selain itu, Daniel memberikan beberapa contoh creative writing dalam bentuk iklan dan mahasiswa menganalisa key elements yang terdapat di iklan tersebut.