Become The Project Manager with Mardoni Widyo Sarianto
Mardoni Widyo Sarianto, Project Execution Coordinator PT Pertamina Eksplorasi & Produksi (PEP), dalam kesempatan ini memberikan materi workshop tentang "Definition  of Project Management" melalui video conference Zoom pada 29 Maret 2023. Beliau merupakan seorang Project Manager yang telah memiliki pengalaman lebih dari 16 tahun di industri minyak dan gas. Workshop ini merupakan salah satu rangkaian dari "Skill Based Training Workshop" yang diadakan oleh Communication Department. Tujuan dari kegiatan ini adalah untuk membantu BINUSIAN dapat belajar bagaimana  menjadi seorang Project Management yang berhasil mengerjakan proyek, mengatur dan membantu tim untuk keberhasilan proyek.
Dalam paparannya, Mardoni menjelaskan definisi project management itu sendiri adalah suatu perencanaan yang bisa digunakan perusahaan untuk menyelesaikan sebuah proyek. Di dalamnya, terdapat berbagai proses yang dimulai dari inisiasi, pembentukan strategi, pelaksanaan, pengawasan. Penggunaan pengetahuan, skill, peralatan dan teknik tertentu di dalam aktivitas proyek untuk mencapai hasil yang diharapkan.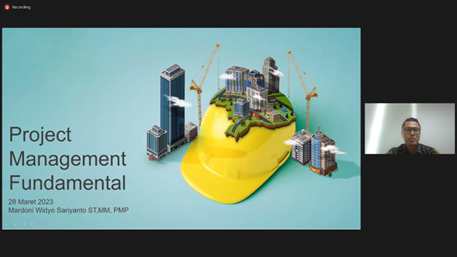 Kegiatan ini mendapatkan respon yang sangat baik dari mahasiswa, di mana para mahasiswa tersebut fokus mendengarkan materi project management dan menanyai bagaimana menjadi project manager yang baik. Selain itu, Mardoni juga memberikan kesempatan untuk mahasiswa memilih kelompok secara bebas untuk dapat melaksanakan tugas project management yang akan dilakukan di pertemuan selanjutnya.