Event Promotion, Risk Management, and Retrospective with Ricky Iskandar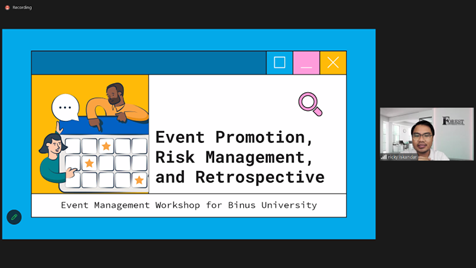 Ricky Iskandar, Corporate From Forest mengisi dalam kesempatan kali memberikan materi workshop tentang "Event Promotion, Risk Management, and Retrospective" pada 31 Maret 2023 melalui Video Conference Zoom di pukul 10.00 WIB. Workshop ini merupakan salah satu rangkaian dari "Skill Based Training Workshop" yang diadakan oleh Communication Department. Tujuan dari kegiatan ini adalah untuk membantu BINUSIAN dapat mengetahui langkah dan bagaimana proses dari membuat suatu event management.
Ricky menjelaskan bagaimana proses pemasaran atau pengenalan dari event yang ingin dipromosikan. Selain pengenalan promosi sebuah event, Ricky juga menjelaskan risk management dalam event, seperti mengidentifikasi dan mencegah potensi resiko yang yang dapat dihadapi di dalam sebuah event. Untuk mengatasi resiko tersebut, Ricky menjelaskan Retrospective Event Management yang di mana rangkaian tahapan project untuk merumuskan strategi yang lebih baik dan terencana.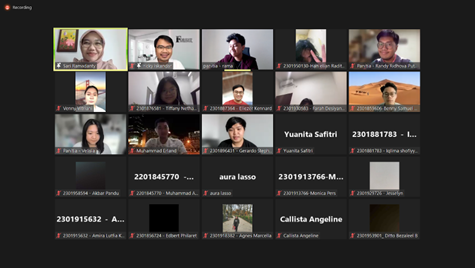 Kegiatan workshop ini mendapatkan respon yang yang sangat baik dari mahasiswa karena para mahasiswa cukup aktif bertanya mengenai penjelasan dari pembicara. Tidak hanya itu, Ricky memberikan latihan 3 (tiga) skenario dan mahasiswa diminta secara berkelompok memberikan solusi terkait skenario yang diberikan. Pelatihan ini tentunya menjadi gambaran bagi para mahasiswa dalam membuat sebuah tindakan dan solusi yang harus dilakukan jika menemui hal tersebut saat menjadi event manager.