How To Be Good Leadership and Teamwork Presentation With Kanya From Lead DANA Indonesia
Anindita Kanya Priyanti, People Acquisition and Business Partner Lead DANA Indonesia, mengisi materi workshop tentang "Leadership and Teamwork" pada 17 Maret 2023 di Kampus Anggrek, Universitas Bina Nusantara. DANA Indonesia merupakan dompet digital Indonesia yang dapat digunakan setiap transaksi non-tunai dan non-kartu secara digital, baik secara online maupun offline.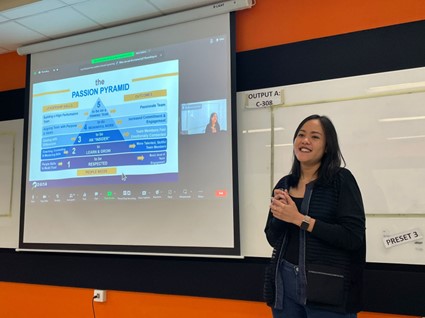 Workshop ini merupakan salah satu rangkaian dari "Skill Based Training Workshop" yang diadakan oleh Communication Department. Tujuan dari kegiatan ini adalah untuk membantu BINUSIAN dapat menjadi seorang pemimpin yang menginspirasi tim dan bekerja dengan baik untuk mencapai tujuan tim. Dalam paparannya, Kanya memberikan penjelasan bagaimana cara kita untuk menjadi leader yang dapat berkomunikasi dengan baik kepada para anggotanya dan cara kerja secara tim dengan efektif.
Kegiatan workshop ini mendapatkan reaksi yang luar biasa dari mahasiswa. Mereka banyak memberikan pertanyaan tentang bagaimana sikap pemimpin yang baik dan bijak serta bagaimana menjalin komunikasi dengan tim. Kanya, selaku pembicara, juga memberikan feedback terkait pertanyaan-pertanyaan sehingga dapat dijawab dengan sangat baik.