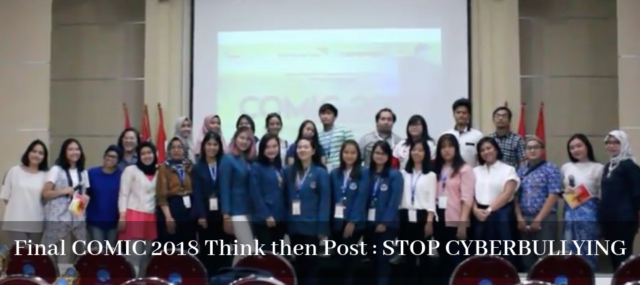 Communication In Action 2018 resmi di tutup! Acara ini diakhiri dengan pengumuman pemenang dari ketiga mata lomba pada 6 Oktober 2018 di Gedung Serbaguna, Kantor Kementrian Komunikasi dan Informasi Republik Indonesia. Terimakasih kepada seluruh peserta yang telah ikut menyemarakan gerakan STOP CYBERBULLYING. Tahun ini kami berhasil mengumpulkan 135 karya dari seluruh penjuru Indonesia. Terimakasih teman teman!
Kompetisi ini merupakan aksi lanjutan dari campaign yang pernah kami lakukan sebelumnya bersama Wahana Visi Indonesia, yaitu #dimulaidarisaya. COMIC 2018 adlah bentuk aksi nyata kepedulian kami terhadap kekerasan pada anak terutama dalam hal cyberbullying,
Final Communication In Action ini dibuka dengan sambutan dari Head Of Communication Department, Ibu Maria Anggia. Beliau mengucapkan terimakasih kepada seluruh partner yang membantu tersukseskannya acara ini. Sambutan lalu dilanjutkan oleh Bapak Gatot Soepriyanto selaku Dean Faculty Of Economic and Communication. Beliau menyampaikan bahwa, "Kompetisi ini bukan tentang siapa yang membawa trophy paling besar atau hadiah paling banyak, tapi partisipasi kita untuk menghentikan cyberbullying adalah hal yang paling penting dari semua itu."
Berikut merupakan pemenang "COMIC 2018"
E – Poster
Juara 1 : Faire – Universitas Kristen Petra
Juara 2 : Dinda, Fira, Syafira – Binus University
Juara 3 : Rinchel – Universitas Kristen Petra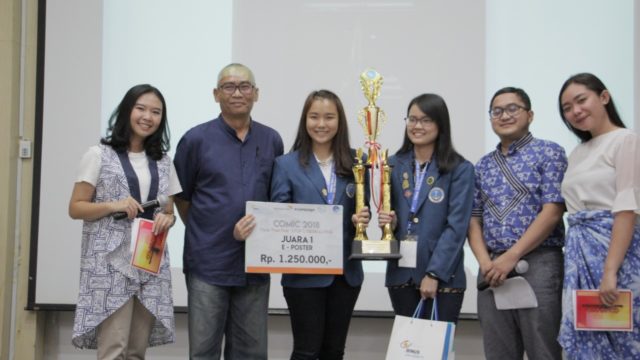 Video Campaign
Juara 1 : Lens Production – Binus University
Juara 2 : Suwung Production – Universitas Muhamadaiyah Malang
Juara 3 : AONE – Binus University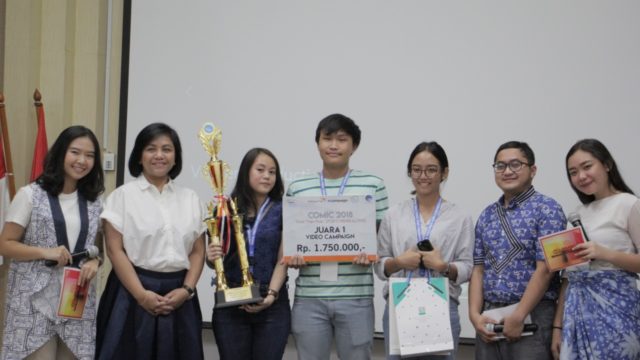 Public Speaking
Juara 1 : Maharani Katansa
Juara 2 : Tri Nur Auliyaa
Juara 3 : Valencienes Michelle Haryono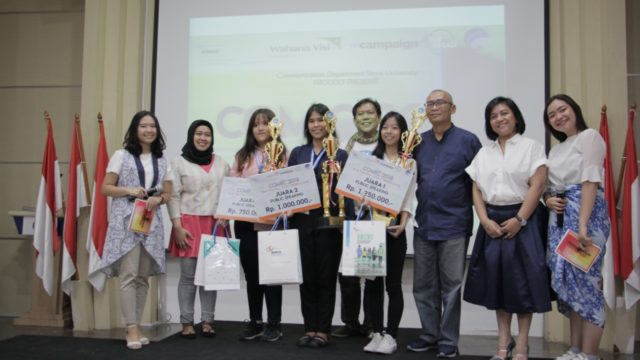 Sekali lagi kami ucapkan selamat kepada para pemenang Communication In Action 2018, semoga bentuk kepedulian kita terhadap cyberbullying tidak hanya berhenti sampai disini saja, bersama kita hapus cyberbullying dari Indonesia.
Tak lupa kami juga ingin mengucapkan terima kasih kepada seluruh partner yang telah membantu merealisasikan acara ini, dari Wahana Visi Indonesia, Campaign.com, Siberkreasi, dan Kominfo terima kasih banyak!
Competition is never about the prize, never about who gets number one, but it's all about the can do attitude, to show the world that you're able to finish what you've started. Semoga dengan kompetisi ini, dapat meningkatkan awareness masyarakat tentang bahaya cyberbullying. Sampai bertemu di COMIC 2019!
Artikel perihal COMIC 2018 telah tayang di Kompas.com dengan judul, "COMIC 2018 Melawan perlindungan Siber" https://edukasi.kompas.com/read/2018/10/08/10570981/comic-2018-melawan-perundungan-siber/
Liputan kegiatan Final COMIC 2018 juga telah ditayangkan di binus.tv