IDEA AND CREATIVITY TRAINING FOR TV PROGRAMS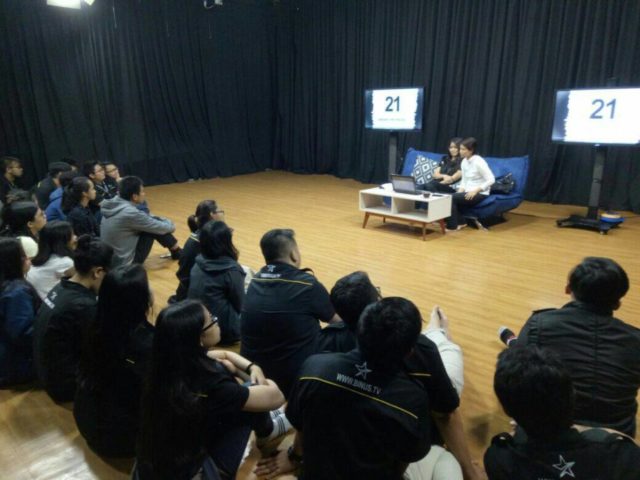 Jumat, 21 Oktober 2016. Telah diselenggarakan "Idea and Creativity Training for TV Programs". Bertempat di Studio Binus TV lantai 3, Gedung R, Kampus Syahdan Binus University. Sebanyak 35 partisipan yang hadir menunjukkan antusiasme dalam pelatihan yang dihadiri oleh ibu Yuliarti, yang merupakan praktisi dari televisi masa kini, NET.
Ibu Yuliarti, atau yang akrab dipanggil Teh Yuli, sudah menjadi seorang broadcaster selama hampir 19 tahun. 4 tahun di dunia radio dan 15 tahun di televisi. Sebelum memulai karirnya di NET, Teh Yuli sempat bekerja di  Trans TV selama 4 tahun dan Trans 7 selama 6 tahun. Beliau kemudian membagikan ilmu dan pengalamannya selama 19 tahun berkarir di bidang broadcast.
Menempati jabatan sebagai Manajer Produksi dari NET, Teh Yuli pun membawahi banyak program, diantaranya adalah OK JEK, The East, 86, WIB, Sarah Sechan, Entertainment News, Wonderfood, D'sign, Let's Color, dan masih banyak lagi. Setiap program harus selalu didukung oleh ide-ide kreatif agar program tersebut dapat terus diminati oleh penonton. Berangkat dari kebutuhan tersebut, maka diadakanlah  "Idea and Creativity Training for TV Programs". Teh Yuli menceritakan pengalamannya selama menjadi seorang broadcaster, dimana seorang broadcaster dituntut untuk terus berpikir kreatif dan berinovasi.  Untuk menjadi seorang broadcaster yang kreatif, seseorang harus selalu mencari tahu mengenai hal-hal baru dengan berbagai cara, dimana salah satu cara termudah adalah dengan membaca. Buku adalah jendela dunia, dan membaca merupakan cara termudah dan termurah untuk menambah pengetahuan dan wawasan.
Editor : Edwina Ayu Kustiawan & Gayes Mahestu