Seminar International: "Freedom of Press in Developing Countries"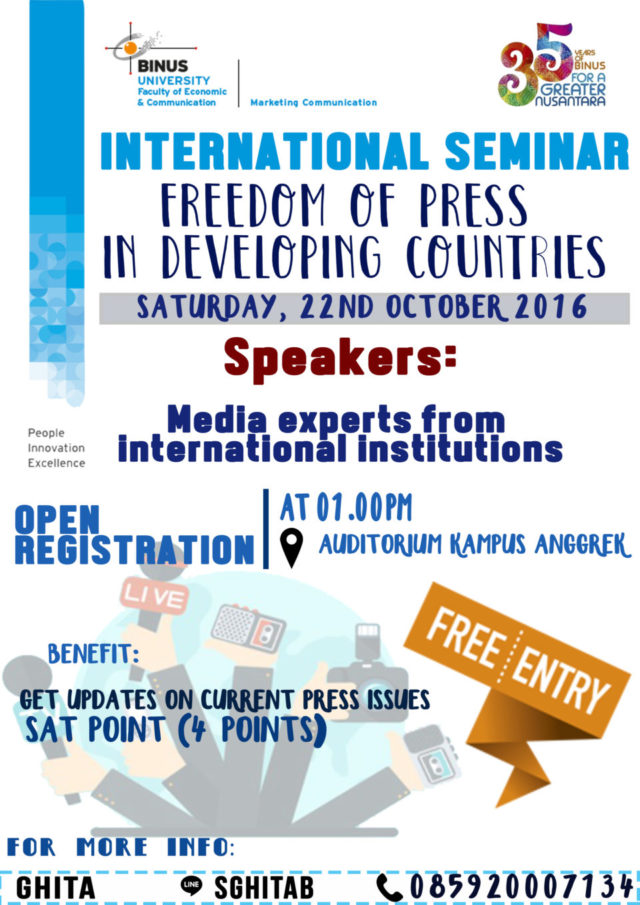 Freedom of press, merupakan hak yang diberikan oleh konstitusional atau perlindungan hukum yang berkaitan dengan media dan bahan-bahan yang dipublikasikan seperti menyebar luaskan, pencetakan dan penerbitkan surat kabar, majalah, buku atau dalam material lainnya tanpa adanya campur tangan atau perlakuan sensor dari pemerintah.
Kebebasan pers sebagai perwujudan dari kebebasan berbicara kebebasan berekspresi memang mempunyai makna yang signifikan terhadap peningkatan kualitas. Sebagai mahasiswa komunikasi kebebasan dalam pers dibutuhkan untuk pengembangan suatu hal, Marketing Communication Department menyadari pentingnya kebebasan dalam berbicara dan mengemukakan pendapat khususnya untuk mengembangkan Negara.
Marketing Communicaton Department akan mengadakan sebuah Seminar dengan topik pembahasan Freedom of Press in Developing Countries yang akan diselenggarakan pada hari Sabtu, 22 Oktober 2016. Pukul 01.00 hingga selesai di Auditorium Kampus Binus Anggrek.
Seminar ini bertujuan agar masyarakat mengetahui pentingnya kebebasan dalam pers guna mengembangkan Negara. Dalam acara ini kami akan mengundang  Pembicara yang kami nilai ahli dalam bidangnya yaitu Rappler dan Embassy of Sudan. Seminar ini ditujukan untuk seluruh BINUSIAN dan mendapatkan SAT Point sebanyak 4 Point
Informasi selengkapnya mengenai acara Seminar Freedom of Press in Developing Countries, dapat menghubungi :
Ghita (085920007134)
LINE: sghitab