Passion in Event Planning from Amanda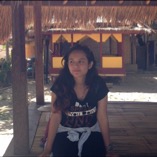 Amanda Afina is a Binusian who graduate in 2015.  She studied in Communication Department majoring in Public Relations (PR). Now she works at Artek Group – Redstone as a Public Relations. She works as a Project Officer in that agency, her job consists of plan events, promotions, and press conference. But, she responsible for the planning, budgeting, and presenting to the client about an event. Some of the company she works with are PT. Mayora, AEON, Hado Labo and others. From PT. Mayora she already held events for Roma Kelapa and Mie Gelas. Amanda handles consumer promotions too, like for example if you buy a product you will get a car for free.
When she was a Binusian, there are only three majors in Communication Department; Public Relations, Journalism, and Broadcasting. As we know she chose Public Relations as her major. "Why do you choose PR as your major?" she said that "Well when I'm in the organization at the campus I love planning and making events. It became a passion for me, I love it" She's also the head of Himmarcom (Himpunan Mahasiswa Marketing Communication) when she studied at Binus in 2015. She said being in an organization like Himmarcom prove to be really useful now in her workplace, especially when it comes to making proposals or even when she plan an event for a client.
Her study in Binus helps her a lot, especially her experience in the organization. So she's not that blind in her workplace because what she does now have a lot in common with her work in Himmarcomm. She hopes Binus will give the student more about what will really happen in the workplace, so students will actually learn by practicing not just from reading a book or listening from lectures. A place like an organization is what the student needs because in there they actually doing what will they do when they work as a PR. But, overall Amanda really enjoys her time at BiNus and her work now. She can't be happier doing a job she's passionate about all the stress and tiredness seems to be paid off when she sees the results. Her advice for Communication Department students who still sit in class joins an organization if u can, study hard, make a lot of friends, and have fun!